How much does a nanny cost?
Your go-to resource for nanny salaries in your region
Each year we publish our Nannytax Nanny Salary Index which showcases the average gross salaries for nannies across the UK. These figures are based on our own nanny payroll records, legitimate data that you trust.
Still asking "How much does a nanny cost"? Download our Free Nannytax Nanny Salary Index 22/23 to find the average nanny salary in your region.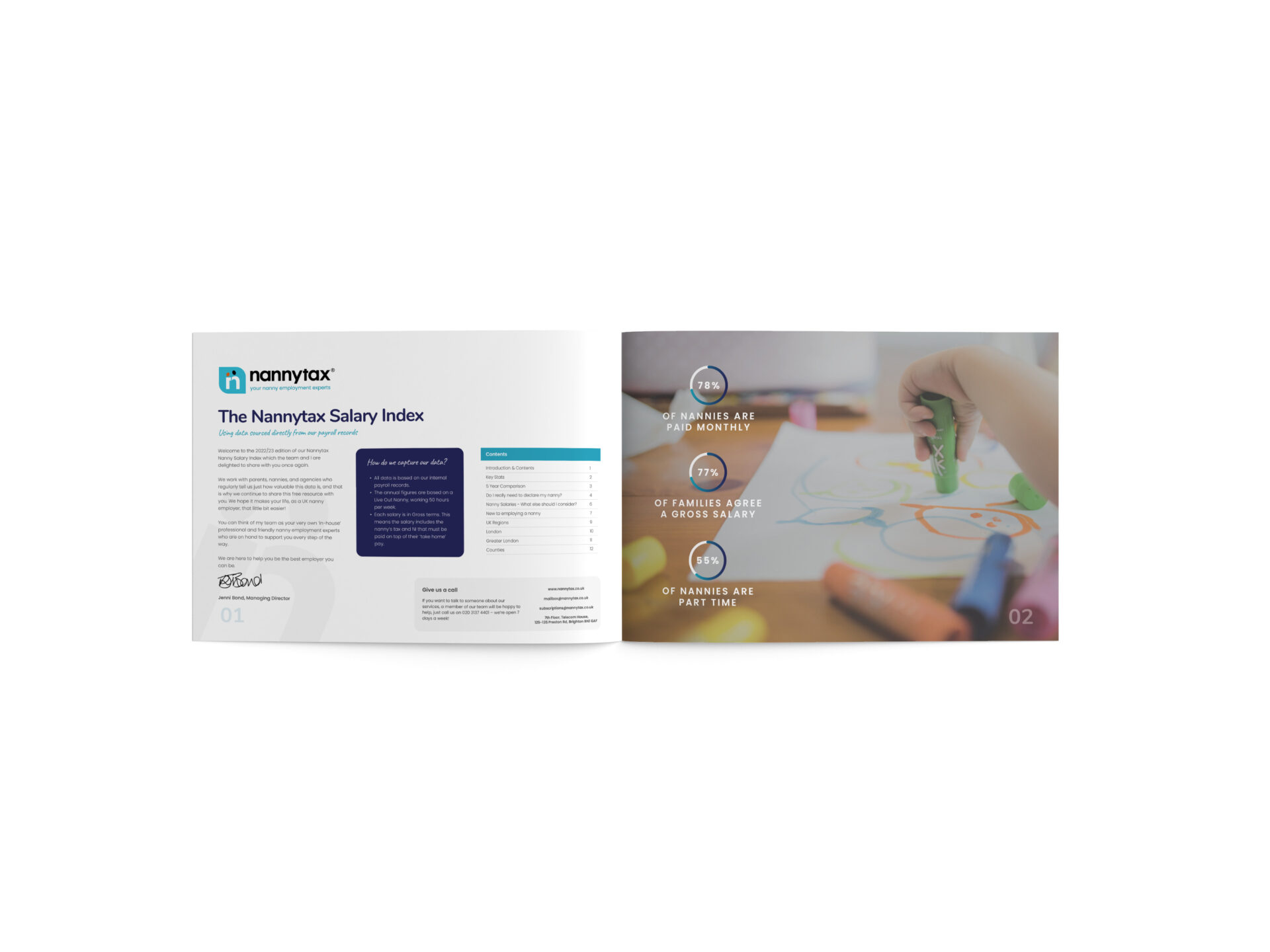 Summary of Key Findings from 2022/23
London Nanny Salaries 
Nanny salaries have increased by 8% in London, with annual salaries up by over £3,000 per year, and is still the highest-earning region in the UK for Live-out nannies. See some of our average nanny salary data breakdown for London boroughs below:
Live-out nannies in Central London earn an average gross wage of £18.58 an hour.
Live-out nannies in North London earn an average gross wage of £16.25 an hour.
Live-out nannies in West London earn an average gross wage of £16.12 an hour.
Increase in Nanny Salaries Across the UK
Nanny salaries in the rest of the UK have seen an increase of 11%. The reason for this increase? Agencies across the UK are reporting higher demand for nannies, amid a reduction in childcare places.
Official figures from Ofsted show the number of childcare providers, including nurseries and childminders, fell by 4,800 in the year to the end of March 2023, while the number of childcare places fell by 24,500.
OF NANNIES ARE PAID MONTHLY
Weekly vs Monthly Pay
As part of our Nannytax payroll service, we can run nanny payslips either weekly or monthly. Our Salary Index data revealed 78% of our Nannytax customers pay their nanny monthly whilst 22% pay weekly.
Net vs Gross
All of the salary data published in our Nanny Salary Index is in Gross terms.
Nannytax strongly advises that employers contract their nanny with a Gross salary as opposed to a Net Salary (the nanny's 'take-home' pay). A fantastic statistic from our 22/23 Salary Index reveals that 77% of our customers have employed their nanny with a Gross salary agreement in place.
Part Time
Our Salary Index data shows that 55% of nannies work part-time vs 45% of those who work full-time.
What's Included This Year?
Nanny Salaries – What Else To Consider?
The number one factor that determines a nanny's pay rate is location, which we break down via UK region in our nanny salary index maps. However, are there other factors to consider? We asked our nanny recruitment agencies to share their insights and you can read these on page 6.
Do I really need to declare my nanny?
As a nanny employer, it is important that you declare your nanny to HMRC. If you fail to do so, you may be breaking the law and as a result, may face penalties – we cover the reasons why you should declare your nanny on page 4.
Nannytax Nanny Salary Index Editions
Did you know we have a directory of over 150 nanny agencies – search for your local agency today
You might also be interested in