Our award-winning Nanny Payroll and Nanny Tax service
The Nannytax Nanny Payroll Service is an all-inclusive nanny PAYE service that encompasses nanny payroll, a bespoke employment contract and HR support. We are here to make employing a nanny easy for you.
We Deal With HMRC On Your Behalf
Our end-to-end nanny PAYE payroll service will take care of all your HMRC responsibilities. That is everything from registering you as an employer, submitting RTI (Real Time Information) returns (a HMRC duty) for you every month, to producing and sending your nanny's P60 at the end of a tax year.
Provide Payslips, Calculate Nanny Taxes And More
Each month Nannytax will e-mail you when your payslips are ready to view and download. We also process P45s every time an employee leaves and provide you with a P60 for your employee at the end of the tax year. Read more about our end-to-end nanny payroll service.
Online Members Area
Manage your Nannytax account from one place. The Members Area will keep a record of all payslips, P60s and other relevant documents. It is where you can change your nanny's salary and tell us when your nanny is leaving. Additionally, you can set up your employee with their own member's area so that they can view their payslips as and when needed.
Bespoke Contracts
Nannytax will provide you with a tailored contract, which is created by our specialist HR advisors. We will also give you a nanny handbook which explains the employment policies in detail, to help both you and your employee understand and agree to the terms in the contract.
Unlimited HR Support
Nannytax HR run a helpline to support you with any legal advice or behavioural queries. You can contact Nannytax HR at any time for no additional fee once you have subscribed. We'll also provide you with various downloadable factsheets, including holiday request forms to give to your employee to use, all via your Members Area.
Emergency Childcare Service
Nannytax have teamed up with Emergency Childcare to bring you quality, regulated backup care when you need it most. As a Nannytax member you can benefit from discounted rates and after signing up with Emergency Childcare you can access local nurseries, childminders and nannies with as little as 30 minutes' notice.
Why are we different to our competitors
Choosing a payroll bureau isn't just about payslips and nanny taxes. There are so many reasons why we're better than our competitors.

Our exclusive online members area makes managing your Nannytax account as simple and as straightforward as possible.
This dedicated platform is rated excellent by over 95% of our customers.

We know your time is valuable.
Nannytax is here for you 7 days a week so you can contact us at a time that is most convenient for you.

We live and breathe payroll. It's what we love, and it's what we've spent the last 30 years perfecting.
It's also why we've been awarded the Lux Life Parent and Baby Award for the Best Nanny Payroll Services Provider for the third year.
Payroll & HR
£276 per annum
(£20 surcharge for weekly payslips)
Our end-to-end Payroll and HR service includes a bespoke nanny employment contract.
Choose from 3 subscription options: 3, 6 and 12 months (3 and 6 month subscriptions over the phone only).
Add Nannytax Plus for an extra £15 per month, where we pay HMRC and your nanny each month.
Payroll, HR & Pension
£355 per annum
(£40 surcharge for weekly payslips with pension)
Adding our fully managed Workplace Pension service to your subscription will take away the hassle of having to manage this yourself. This includes calculating pension contributions, deducting from the salary and updating the payslip.
Add Nannytax Plus for an extra £15 per month, where we pay HMRC and your nanny each month.
Full Package
£454 per annum
(£40 surcharge for weekly payslips with pension)
Why add our Premium Nannytax Plus Service?
We'll Make HMRC Payments For You
We'll make the HMRC payments for you every month.
Avoid HMRC Penalties
Late or missed payments result in fines from HMRC, our plus service helps to eliminate this risk.
We'll Pay Your Nanny For You
We'll pay your nanny every month, on you behalf.
86% of Our Customers Add Nannytax Plus
86% of our customers add Nannytax Plus on to their standard subscription.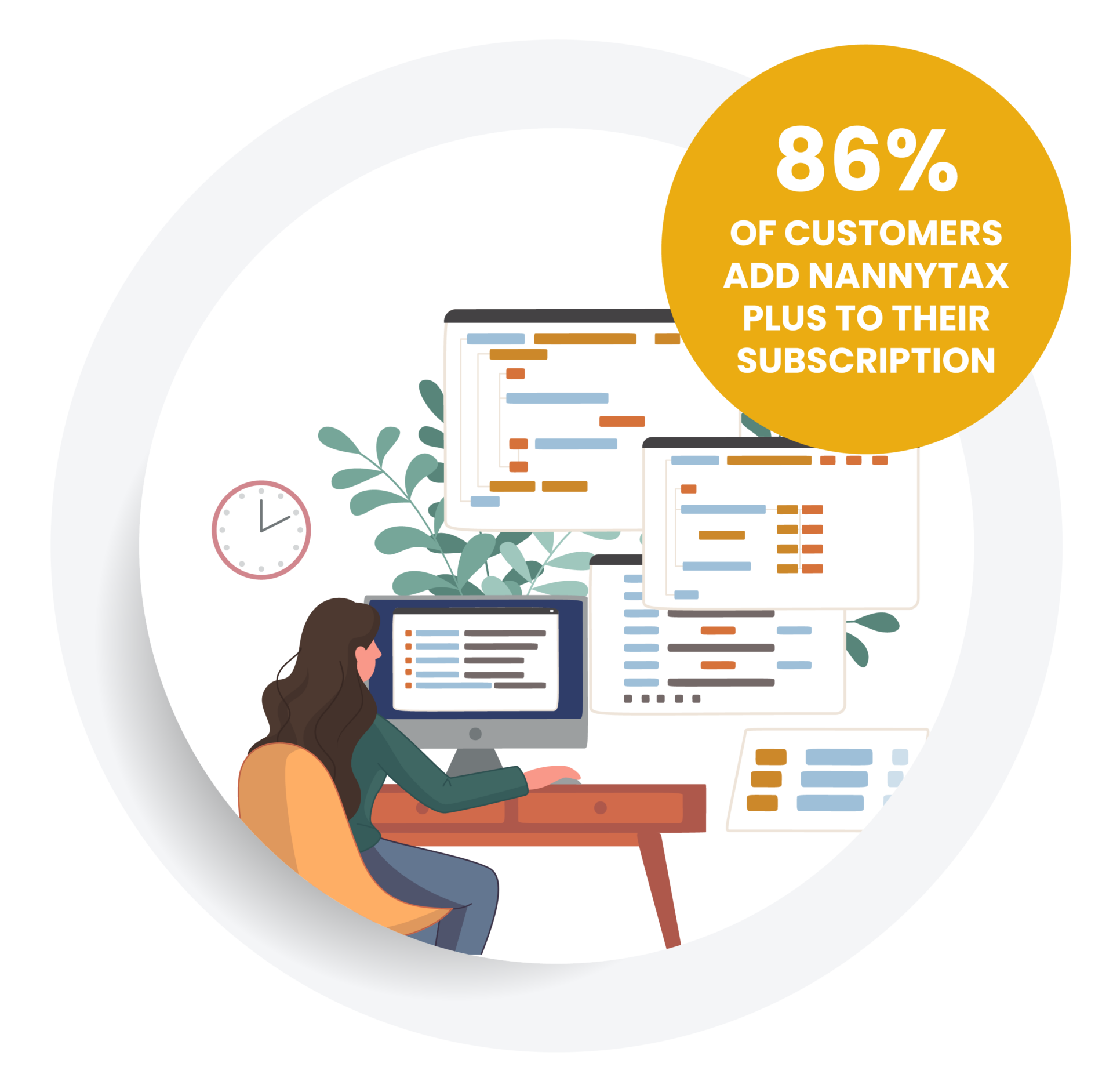 Why we're the best value for money
There are so many reasons why we're the best value for money, but here are 6 that are exclusive to Nannytax.
From our free bespoke employment contract and unlimited HR support right through to our free 60-page comprehensive employment pack and optional time-saving add on services such as our Payroll Plus service which includes making salary payments directly to your nanny and paying Tax and National Insurance liabilities to HMRC on your behalf.
1. Here for you 7 days a week
We're not your average 9-5 business, Nannytax is here for you 7 days a week so you can contact us at a time that is most convenient for you.
2. Free Bespoke Nanny Contract & Unlimited HR Support
Our HR team will prepare a bespoke nanny contract based on your requirements, completely free of charge. Having a contract of employment place is now a legal requirement from day 1 of your nanny's employment.
Plus, going forward you will have unlimited access to our CIPD-qualified HR experts via email or phone for any legal or behavioural matters. Common topics HR deals with include holiday, maternity leave, and nanny shares.
3. Online Members Area Helps Makes Life Hassle Free
Manage your account around the clock with our unique Employer Members Area and our Nanny Members Area gives your nanny direct access to payslips and employment documentation.
95% of customers rate our online member's area excellent.
4. Optional Pay your nanny and HMRC Service
We can pay your Nanny and HMRC on your behalf (add-on service) for just £15 +/ month the best price in the market – 86% of our customers add this to their subscription.
5. Free 60-page Comprehensive Employment Pack
Comprehensive 60-page Nanny Employment Pack created by our in-house experts introduces you to everything you need to know about being a nanny employer.
6. Market leading and award-winning
Market leading, award-winning and trusted by nearly 200 UK nanny agencies. We have been providing end to end support for almost 30 years and are recommended by top industry leaders including Ofsted and Norland College Institute.
Prefer to talk to someone?
Request a call back from our friendly subscriptions team.
We understand you might prefer to talk to someone about employing a nanny, discuss our services, to help you understand nanny taxes, and to answer any queries you may have.
Our friendly team are available to talk from 8.30am – 7.30pm, Monday to Friday and 10am to 4pm on Saturday and Sunday, on 020 3137 4401.
Alternatively you can get set up with Nannytax straight away by joining us now online. Online sign up is unavailable for our 3 and 6 month subscriptions.
We recommend that you sign up 4-6 weeks prior to your nanny starting to ensure your first payslip is ready on time.
Our dedicated team look forward to chatting to you about employing a nanny.
Our team are here to help you. From understanding and managing nanny taxes and nanny payroll to answering your HR queries.
What can I add to my Nannytax Subscription?
Enable Limited is an Appointed Representative of Fish Administration Limited and authorised by them to sell liability insurance for nannies and their employers. Fish are authorised and regulated by the Financial Conduct Authority. Firm Reference Number is 310172. Fish Administration Limited is registered in England and Wales. Company Registration Number 4214119. Registered Office: Rossington's Business Park, West Carr Road, Retford, Nottinghamshire, DN22 7SW.