Starting a new Nanny Job?
Take a look at our Nanny Checklist
Are you about to start a new nanny job? Our Nanny Checklist will help you prepare for your start date.
Our checklist covers your employee rights and best practice, from agreeing a salary and paying tax to checking your holiday entitlement and joining a pension scheme.
We highly recommend you agree a GROSS salary with your employer.
In summary, a Gross salary includes the Tax and NI your employer must pay on your earnings. A Net salary is the remaining Take Home Pay you'll receive in your bank account on pay day. More on Net vs Gross.
If you wish to convert a Net Salary to a Gross Salary or vice versa, you can use our Nannytax Nanny Salary Calculator.
PAYE is an HMRC system that UK employers must use to pay Tax and National Insurance contributions on their employee's earnings.
If you do not pay tax and/or accept cash in hand as payment, both you and your employer could face hefty fines from HMRC.
Have peace of mind that your Tax and NI is sorted with our Nanny Payroll Service. We set up the PAYE scheme, calculate your tax and NI and provide payslips.
Your employer is legally obliged to offer you a pension scheme.
If you meet the criteria (22 years+/ earn £10,000+ per annum), you will automatically join a pension scheme. You can then choose to remain in the pension scheme or leave the pension scheme.
Our Nanny Pensions Service means we can manage your pension scheme, display the pension contributions on your payslip, and support you if you wish to join or leave your pension scheme.
Nanny Public Liability Insurance covers you in the event of an incident occurring whilst you are carrying out your duties.
It's extremely important to have this protection in case the unexpected happens and you are found liable.
Nannyinsure is an Ofsted-recognised Public Liability Insurance for professional working nannies.
You are entitled to a minimum statutory holiday entitlement based on how many days/hours you work per week.
A full-time nanny is entitled to a minimum of 5.6 weeks (28 days) of paid annual leave. This includes the 8 UK bank holidays.
You can use our Holiday Calculator to work out your holiday entitlement. Here we answer common FAQs on Holiday Pay.
Your employer must provide you with a contract by day 1 of your nanny job.
As part of our Nanny Payroll Service we provide all our Nannytax clients with a bespoke nanny employment contract and a handbook outlining each of the terms.
The contract will state your salary, duties, holiday allowance and statutory entitlements such as sick pay and maternity pay.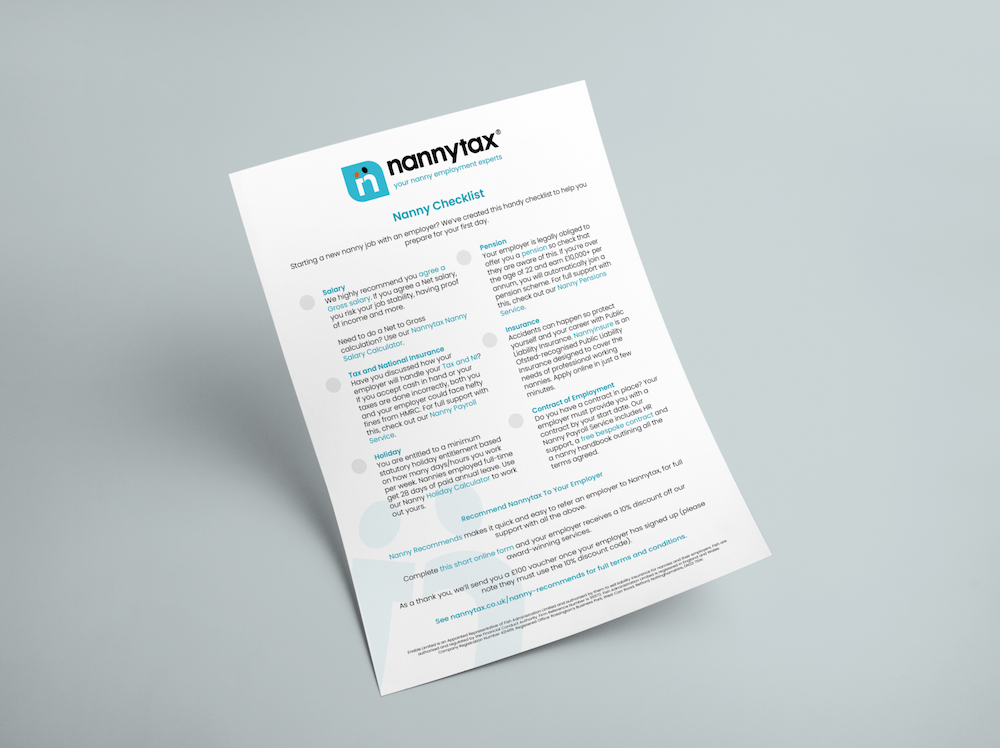 Download or print off our handy Nanny Checklist and tick off our top things to consider before you start your new job!
You might also be interested in
Enable Limited is an Appointed Representative of Fish Administration Limited and authorised by them to sell liability insurance for nannies and their employers. Fish are authorised and regulated by the Financial Conduct Authority. Firm Reference Number is 310172. Fish Administration Limited is registered in England and Wales. Company Registration Number 4214119. Registered Office: Rossington's Business Park, West Carr Road, Retford, Nottinghamshire, DN22 7SW.