Employing a nanny for the first time?
Take a look at our Employers Checklist
If you've never employed someone before, our exclusive Nanny Employer's Checklist has been designed to make hiring a nanny a little less daunting for you. We're here to support you with the legal aspects of the employment that you'll need to consider including holiday, pensions and insurance.
Request your employers checklist
Salaries are an extremely important part of the employment process.
Use our Salary Calculator to help you work out your nanny's weekly, monthly and annual net salary, otherwise known as their "take home" pay. This handy gross to net salary calculator will also work out the total cost to you as an employer, including any pension contributions due.
In the UK employment world, almost all industries will discuss salaries in Gross terms. If you agree a Net salary you may be in for a shock further down the line when faced with how much employing your nanny is really going to cost. That's why at Nannytax we advocate the #GOGROSS campaign which highlights the benefits of Gross vs Net, and always recommend that families agree a Gross salary with their nanny.
Under the Pensions Act 2008, all UK employers must offer their employee a workplace pension scheme if they meet the criteria. Once enrolled into the pension scheme, you (the employer), your nanny and the Government will be required to contribute to the pension. Learn more about workplace pensions below or find out about our nanny pension service subscription add-on.
When you employ someone in your home it is a legal requirement to have Employers' Liability Insurance. Employers' Liability Insurance will help you pay compensation if an employee is injured or becomes ill because of the work they do for you.
All employees including nannies have a legal minimum holiday entitlement. As a nanny employer you must state your nanny's holiday allowance in the contract of employment and administer holiday pay where due. So how much holiday is your nanny entitled to? This depends on whether they work full time or part time.
An employment contract should help you and your nanny set the foundations for a good working relationship. This legally binding document will outline the key terms of the employment arrangement that both parties must keep too.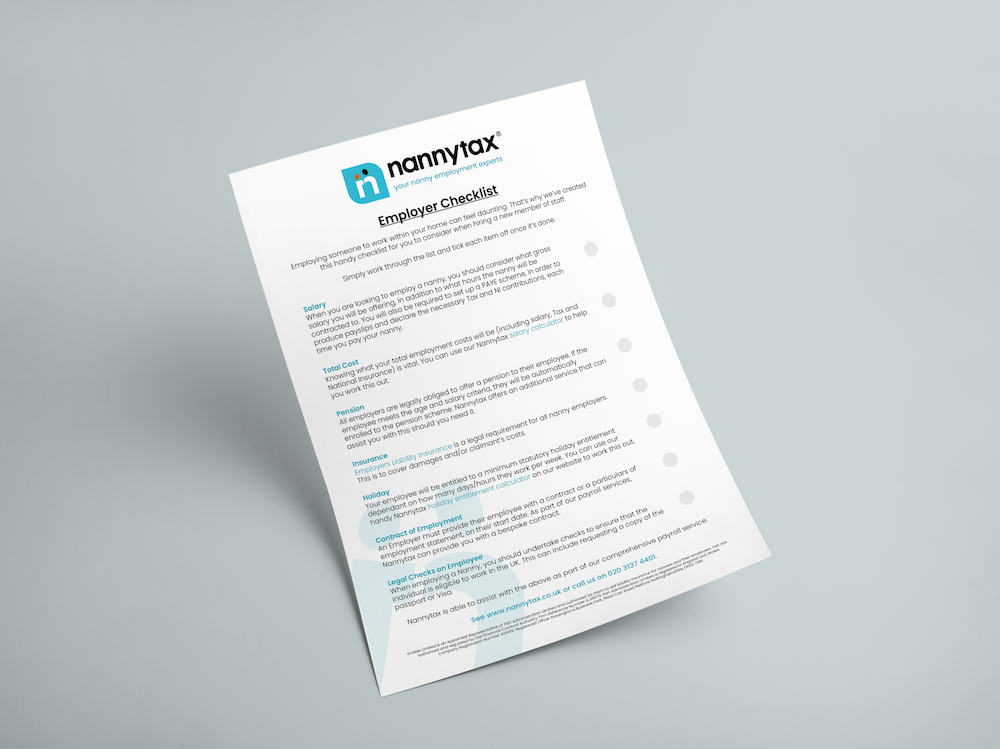 If you would like a more comprehensive guide to what else may need to be considered when employing a nanny, please download our helpful employer's checklist.
You might also be interested in
Enable Limited is an Appointed Representative of Fish Administration Limited and authorised by them to sell liability insurance for nannies and their employers. Fish are authorised and regulated by the Financial Conduct Authority. Firm Reference Number is 310172. Fish Administration Limited is registered in England and Wales. Company Registration Number 4214119. Registered Office: Rossington's Business Park, West Carr Road, Retford, Nottinghamshire, DN22 7SW.